Now with moar National Intellectual Property Rights Coordination Center … Security unit targets 'worst' in world crime – John Lantigua, Palm Beach Post, Nov 26 2011
HSI is a new directorate within the Immigration and Customs Enforcement service. Formed in September, its agents are responsible for investigating large-scale international crime, such as narcotics or arms smuggling, human trafficking, money laundering and any form of terrorism. They also defend against the illegal appropriation and exporting of technology that is crucial to U.S. security.

"In other words we're looking for illegal activity that is crossing the border into the country or crossing the border out of the country," Pino says.

The HSI Special Response Team serves warrants and apprehends international criminals considered too dangerous for other law enforcement to go up against.

"A lot of these criminal organizations are very well-armed, very well-funded and some of them may come from military backgrounds in their home countries," Pino says.

While its name is new, the response team can be traced to the 1980s, before the Department of Homeland Security existed.

"It started here in Miami, in the old cocaine cowboy days," HSI Special Agent in Charge Mike Shea says. "This is the oldest and best tactical entry team in the country. High-risk entry is the core mission."

HSI consists of more than 10,000 employees, including 6,700 special agents, who are assigned to more than 200 U.S. cities and 47 countries .
A relatively monstrous SWAT style truck leads us to a whole new blob of police state developments, busy hands with little to do and a lot of hardware to do it. It's yet another plateau of mad new security bureaucracy, something in this case I was loosely aware of tectonic plates moving, but a little digging revealed quite a nasty new nucleus. Let's plow in and see what was beta-tested through the willingness of politicians to throw money at repressing immigrants. The results begin with big, black scary trucks. And the biggest intelligence group inside the Department of Homeland Security (DHS), and more. Surprise!
Via CopBlock.org's Facebook page: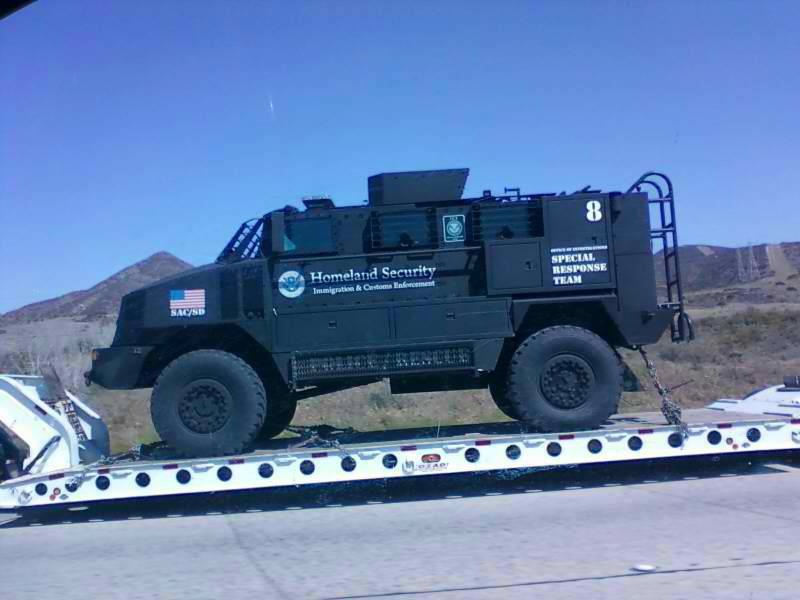 What in the hell is the Special Response Team, why do they have eight of these things? etc. What turns up is an entirely new nasty agency gestating with Immigration & Customs Enforcement, from the burbling mass of confused federal police… a new team emerges. With exciting competitions and lurid ways of guarding the Super Bowl from Terrorist Attack – a National Special Security Event. The wikipedia page outlines the bizarre weave of this particular bureaucratic nucleus. And the List of special response units on the ol Wiki shows a spreading motif — but this Homeland Security super-swat is perhaps the swattiest of all.
HSI SRT Training to jump off shiny new helicopters to save the Super Bowl in Miami – yayyyy!!
(this is why your schools/bridges are crumbling, America, the purposeless authoritarian spectacle at its finest ;)
This recently reorganized, months-old ICE Homeland Security Investigations (formerly known as ICE Office of Investigations) should really be on the radar of anyone because this year they are apparently 'filling in the gaps for the Secret Service' at NSSEs like G20, NATO summits and the Republican and Democratic national conventions. (unfortunately the Secret Service is now a part of DHS, not Treasury.) The Federal Protective Service, which likes to take photos around the Twin Cities (see my 2010 Fort Snelling Undercover Fail video, classic times) is now part of some weird directorate but briefly passed through ICE after being removed from the General Services Administration.
The HSI Special Response Teams are seemingly the top layer of a lot of things, from the war on terror / war on drugs motif, to the Super Bowl, to whatever the hell they are planning to do to immigrants on the I-5 near LA, which was where this pic was taken according to Copblock. ICE has a large number of staff on the Joint Terrorism Task Forces that do statistic-generating police state busywork around the country, and interestingly this HSI group is now officially becoming publicly distinguished from the rest of ICE — and the theory of course is HSI would be spun out of ICE to become a freestanding 'directorate', a more modern and insane paramilitary FBI or whatever.
I wonder if the Secure Communities biometric collection program which was forced upon all counties in Minnesota, regardless of state & local wishes, would feed citizens' data into HSI…. just like the monstrous truck above, now moving more into the "non immigrant" category of freeform federal police activity. Perhaps they shall do some serious black ops against occupier groups angling to get to the conventions? Nevar!
Wikipedia:
The Special Agents of HSI use their broad legal authority to investigate and combat a range of issues that threaten the national security of the United Statessuch as strategic crimes, human rights violations, human smuggling, art theft,human trafficking, drug smuggling, arms trafficking and other types of smuggling(including weapons of mass destruction), immigration crimes, gang investigations; financial crimes including money laundering, bulk cash smuggling, financial fraud, and trade based money laundering; terrorism, computer crimes including the international trafficking of child pornography over the Internet, intellectual property rights crimes (trafficking of counterfeit trademark protected merchandise), cultural property crimes (theft and smuggling of antiquities and art), and import/export enforcement issues. HSI special agents conduct investigations aimed at protecting critical infrastructure industries that are vulnerable to sabotage, attack or exploitation.[8] HSI special agents also provide security details for VIPs, witness protection, and support the U.S. Secret Service's mission during overtaxed times such as special-security events and protecting candidates running for U.S. president.

HSI was formerly known as the ICE Office of Investigations (OI). HSI Special Agents have legal authority to enforce the U.S. Immigration and Nationality Act (Title 8), U.S. Customs Laws (Title 19), along with Titles 5, 6, 12, 18 (Federal Criminal Code and Rules), 21 (drugs), 22, 26, 28, 31 (exclusive jurisdiction over Money and Finance investigations), 46, 49, and 50 (War and National Defense) statutes; giving them the broadest federal law enforcement jurisdiction of any agency. HSI has more than 8,500 Special Agents, making it the second largest federal law enforcement and criminal investigative agency within the United States government next to the FBI.

The change of names from ICE OI to HSI was announced in June 2010. Part of the reasoning behind the name change was to better describe the general activities of the agency, and to avoid the uninformed stigma that this agency only investigates immigration-related issues (ex. OI/HSI special agents duties were often mistaken by the public, other LE agencies and the media to mirror ERO agents/officers). HSI does have a public relations problem. Its the second largest investigatory agency, but the general public has never heard of it. ICE held it close to the belt and until recently, didn't publicly make the distinction as TSA does with Federal Air Marshals and CBP does with Border Patrol. In 2012, ICE and HSI have mandated a public distinction be made between both organizations. Most often news reports bury HSI's efforts as "immigrations agents" or as ICE efforts, and frequently Department of Justice and US Attorney's Office press releases of HSI-led investigations get spun up to sound like DOJ or FBI investigations that received assistance from local partners and ICE.

The name change to HSI better reflects that it is the U.S. Department of Homeland Security's primary investigative body, and as a result, its thought that someday it will be pulled out from under the ICE umbrella and stand independent under the DHS. An obscure fact is the original planned name before settling on ICE was the Bureau of Investigations and Criminal Enforcement, but the brothers at the FBI didn't approve and made their complaints heard.

Intelligence

Intelligence is a subcomponent of Homeland Security Investigations (HSI). The Office of Intelligence uses its Intelligence Research Specialists for the collection, analysis, and dissemination of strategic and tactical intelligence data for use by the operational elements of ICE and DHS. Consequently, the Office of Intelligence works closely with the Central Intelligence Agency, IRS the Federal Bureau of Investigation and U.S. Customs and Border Protection.

International Affairs

IA is a subcomponent of Homeland Security Investigations (HSI). The Office of International Affairs, with agents in over 60 locations around the world, represents DHS' broadest footprint beyond US borders. ICE Attaché offices work with foreign counterparts to identify and combat transnational criminal organizations before they threaten the United States. IA also facilitates domestic HSI investigations.
Oh good, the CIA and FBI together at last… (and let's not forget the ICE/DHS network of detention facilities: Detention Facilities official front page- what is the HSI role for something like that applied to – somehow – non-immigrants?)
Official Site: http://www.ice.gov/about/offices/homeland-security-investigations/
The ICE Homeland Security Investigations (HSI) directorate is a critical asset in the ICE mission, responsible for investigating a wide range of domestic and international activities arising from the illegal movement of people and goods into, within and out of the United States.

HSI investigates immigration crime, human rights violations and human smuggling, smuggling of narcotics, weapons and other types of contraband, financial crimes, cybercrime and export enforcement issues. ICE special agents conduct investigations aimed at protecting critical infrastructure industries that are vulnerable to sabotage, attack or exploitation.

In addition to ICE criminal investigations, HSI oversees the agency's international affairs operations and intelligence functions. HSI consists of more than 10,000 employees, consisting of 6,700 special agents, who are assigned to more than 200 cities throughout the U.S. and 47 countries around the world.

Report suspicious activity. Complete our tip form…..

HSI conducts criminal investigations against terrorist and other criminal organizations who threaten national security. HSI combats worldwide criminal enterprises who seek to exploit America's legitimate trade, travel and financial systems and enforces America's customs and immigration laws at and beyond our nation's borders.

HSI comprises six key divisions:

-Domestic Operations

-Intelligence

-International Affairs

-Investigative Programs

-Mission Support

-National Intellectual Property Rights (IPR) Coordination Center
The official page for the HSI Special Agent in Charge Field Offices of which there are 26:
Homeland Security Investigations has 26 Special Agent in Charge (SAC) principal field offices throughout the United States. The SAC offices are responsible for the administration and management of all investigative and enforcement activities within the geographic boundaries of the office. The SACs develop, coordinate, and implement enforcement strategies to ensure conformance with national policies and procedures and to support national intelligence programs. SACs coordinate law enforcement activities with the highest level of Federal, state, and local governments, as well as intelligence organizations and international law enforcement entities. In addition, SACs supervise all administrative responsibilities assigned to the office and ensure a responsive Internal Controls Program is developed.

To efficiently manage their designated geographic regions, SAC offices maintain various subordinate field offices throughout their areas of responsibility, which support the enforcement mission. These subordinate field offices, Deputy Special Agents in Charge (DSAC), Assistant Special Agents in Charge (ASAC), Resident Agents in Charge (RAC) and Resident Agents (RA), are responsible for managing enforcement activities within the geographic boundaries of the office.
SAC Minneapolis/St. Paul
2901 Metro Drive, Suite 100
Bloomington, MN 55425
Main (952) 853-2940
Fax (612) 313-9045
If you search for 2901 Metro Drive Suite 100 that is the same office for other immigration, ICE & Homeland Security sub-offices.
These guys also have the completely insane National Intellectual Property Rights Coordination Center, a hearty reminder that the kafkaesque nature of what they call "intellectual property" combined with bureaucratic bloatware budget and an aggressively fascist private industry-friendly design, can truly combine to make one of the most awful, yet admittedly bold, authoritarian government logos of all time. Our Partner Agencies — National Intellectual Property Rights Coordination Center

It's almost enough to make you believe that swat teams could control all the memes they want, and even maybe the copy and paste commands too!
These are like a new branch of goons yet to be accounted for: HSI-Intel.
The ICE Homeland Security Investigations Intelligence Office (HSI-Intel) is a robust intelligence force that supports the enforcement needs of ICE's executive leadership and operational field units.

Cutting edge technology, complex intelligence gathering tools, multifaceted investigative techniques and a high level of professionalism have enabled HSI-Intel to set the standard for federal law enforcement/intelligence agencies.

HSI-Intel also serves as home to the National Incident Response Unit (NIRU). This unit ensures that ICE is prepared to respond to national emergencies or critical events, including natural disasters, disease pandemics and terrorist attacks. NIRU plans for ICE's continuity of operations before, during and after catastrophic incidents. During these incidents, NIRU serves as the agency's central communications "nerve center," coordinating the sharing of information between ICE components and other federal, state and local agencies. …..

HSI-Intel collects, analyzes and shares strategic and tactical data for use by DHS and ICE leadership and operational units. It also supports federal, state, local, tribal and international law enforcement partners.

HSI-Intel's analysis and targeting information plays a vital role in supporting investigations related to illegal immigration, terrorism, weapons proliferation, war crimes, financial crimes, trade fraud, drug smuggling, human smuggling and trafficking, child sex tourism and other criminal activities.
I am sure they will figure out how all that drug money gets through the Federal Reserve Bank computer systems one of these days.
Organizationally parallel to ICE and the gestating HSI within it is the National Protection and Programs Directorate – Wikipedia. Has the Federal Protective Service now. A hodgepodge. Not the Center of the Action like HSI!
Oh true story… the KGB is now… wait for it… Federal Protective Service (Russia) – Wikipedia. Федеральная служба охраны, ФСО,
As far as I can tell, the following picture is not some satirical fan-boy art piece come to life. And those fonts…. christ! It looks like you can clearly see the 'investigations' part on there.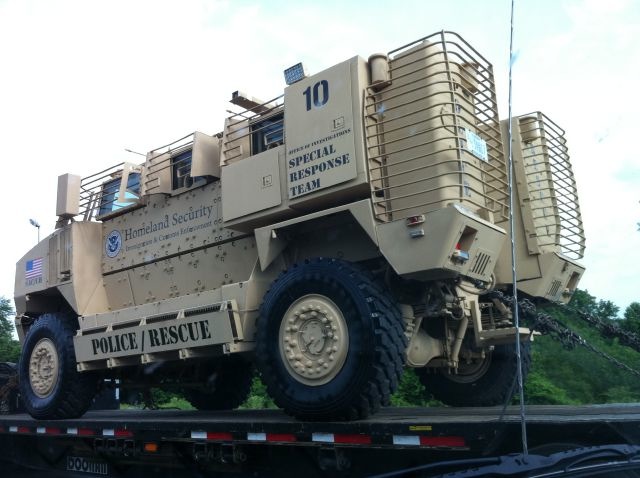 What about the Office of Investigations Special Response Team? Looks like we've found #8 and #10 so far. Both manilla and black color schemas.
Alright lets move this along & get these links out there.I found #9 for the Los Angeles set in Flickr user DFP2746 (plz forgive remixing a part of the images, you intellectual property fusion center types) Source: Homeland Security MRAP / DHS/ICE Special Response Team | Flickr – DFP2746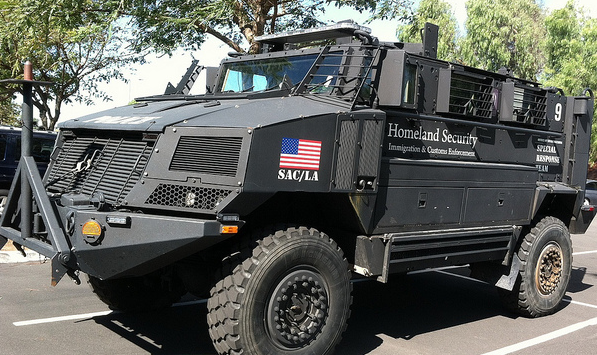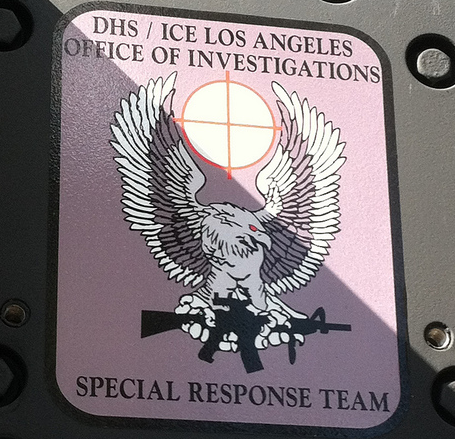 This is getting to be like Pokemon… my SRT trucks. Let me show you them…
First get the swag on eBay: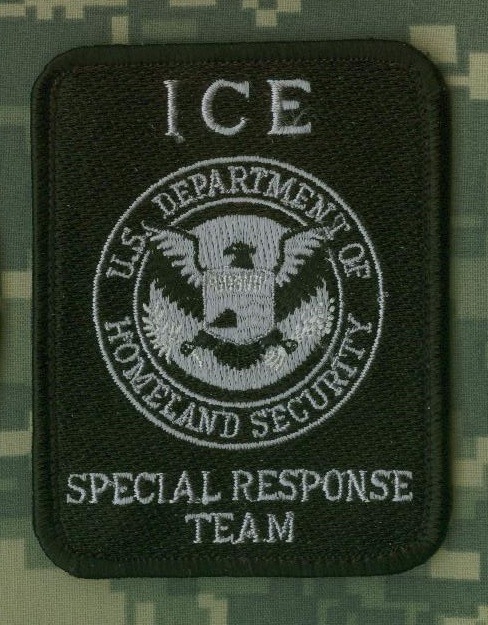 HOMELAND SECURITY ICE SRT SPECIAL RESPONSE PATCH | eBay
Press release from 2005 Katrina madness is nice: Department of Homeland Security Special Response Team Deploys to New Orleans Equipped with Zensah Tactical Gear
A– ICE Special Response Team (S.R.T.), an elite tactical unit attached to the Department of Homeland Security, deployed to New Orleans equipped with Zensah (http://www.zensah.com/tactical.html) tactical gear. By wearing Zensah™ moisture wicking tactical clothing, ICE special response team members receive a first line of defense against hazardous conditions found in the Gulf Coast areas affected by Hurricane Katrina.

ICE special response team members are in the affected areas to save lives, to protect lives, and to provide security to the recovery effort. ICE's primary objectives are to support authorities in securing New Orleans and other affected communities and to provide security to federal rescue and recovery efforts.

….The ICE Special Response Team is an elite tactical team for the office of investigations under the Department of Homeland Security in Miami, Florida. Duties and responsibilities include search and arrests warrants, maritime interdiction, customs and immigration enforcement. For more information pleas visit http://www.ice.gov
Similar: Over 700 ICE Law Enforcement Personnel Were Sent to the Gulf Coast
MOAR GUNS: Tactical-Life.com » THE U.S. ICE MEN: The ICE Special Responders cometh bringing high-speed efficiency and low-drag force as required! "ICE also maintains five additional certified SRT units that are managed by ICE Detention and Operations." … not sure if they mean 5 or 6 SRTs total. "the U.S. Customs Service evolved into a very progressive and highly successful interdiction and investigative agency. Due to the number of high-risk enforcement actions being executed on a regular basis, the U.S. Customs Service decided to establish a tactical unit called the WETT (Warrant Entry Tactical Team). In time, the U.S. Customs Service changed the name of its tactical team to the Special Response Team."
They're Hiring. Supervisory Border Patrol Agent (Special Response Team) – Homeland Security, Customs and Border Protection Job Posting
Buy training: Special Response Team Training 1: Overview & Objectives | Homeland Security Network USA newest backbone information source for First Responders
Gunfire a regular occurrence for ICE employees | California Watch. This has the following govt-produced pic, look how big that damn truck is. We can't see the apparent city-like (SAC?) insignia on the side or which number it has. It was at this Fort Benning GA training they blather about.
Another benefit of filling up society with needless paramilitary organizations is random accidental gunfire. Nice. "Roughly 80 ICE-involved shootings were unintentional and often involved agents dropping, cleaning or reaching for their guns, records show. The guns, in many cases, discharged in offices, government vehicles or during target practice. "
Special response teams prep for high risk situations at Ft. Benning – Nov 2011 press release ICE.gov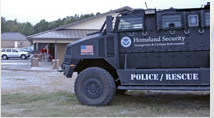 City of Buffalo NY budget mentions a Major Award for it.
The confusing story of Homeland Security whistleblower Julia Davis ties into this I think. ie. see: Medal of Honor Held By The DHS PAGE 2
[ OKC Tangent. One other note — In the Oklahoma City case I think Terry Nichols tried to tip off these Homeland Security types to a stash of explosives he'd obtained from FBI-friendly weapons dealer and Contra player Roger Moore. I don't have that info on hand here but it's around (notes on that ). It failed because some mafia guy snitched to the FBI — the FBI has a pretty careful info cage around Nichols because of the informant-saturated nature of OKC he likes to talk about. This went down in like 2005. (Source of FBI Delay on Terry Nichols Explosives etc) So the idea is if the DOJ/FBI had a specific scheme such as OKC you could get around them through HSI. There's more to all of this, don't have the notes here, but there have been developments in recent weeks, search 'Jesse Trentadue'.. ]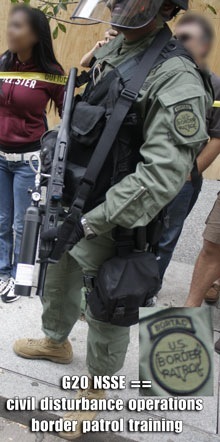 Check the ICE photos for some mad stuff. including saving the world from counterfeit NBA swag.
Conclusions? In any case it's good to know who the 'filler goons' are for NSSE campaigns of state-sponsored violence and insanity, of which 3.5 are scheduled for Chicago/Camp David, RNC & DNC this year, (along with the all important national sporting events), and ICE's new spawn HSI and the HSI SRT giant trucks will soon be a fixture at high profile gigs. There were weird Border Patrol Swat types at the 2009 G20 – See TC Indymedia Exclusive: Secret 'Trigger' & blueprint for emergency domestic military crackdown plan revealed – BORTAC is that team. And who knows what they might do with good ol' FEMA.
What to expect: HSI's avid effort to become a domestic Swiss army knife of police activity between IRS, CIA and FBI; another layer on the Joint Terrorism Task Force cake and a free-wheeling institution in its own right, combined with a few new flashy PR initiatives (a high profile bust of a little fish or 2 perhaps, etc) in order to carry out the planned 'branding' of HSI.
Perhaps we can just shut it down and use the borrowed debt 'money' we save to be less permanently indebted to the banker police state… borrowed money to build out echelons of mass suppression is always a grim spectacle. Imagine what we could have done with the wasted resources instead. Now we know which new goonsquad will get the biometrics data from Secure Communities.
And of course, who better to 'manage' the war on drugs than the organizational descendant of the 'cocaine cowboys' and the 1980s task forces which helped pass through planeload after planeload of cocaine? That era's keywords, Barry Seal, aviation fronts like Vortex, Southern Air Transport, Evergreen, Polar Air Cross and Air America (some still thriving), operations like AMADEUS, PEGASUS and WATCHTOWER, the quasi-privatized intelligence operations authorized under proclamations like Executive Order 12333 to facilitate the drugs-for-weapons smuggling… those were a few critical points of that era.
What awaits us next? How will HSI deal with the vast scale of financial corruption? What will they do? Who are they going to point the weapons at, and where are the trucks going? Chicago, Charlotte & Tampa… but first, LA, of course. For the immigrants.
SOURCE: http://hongpong.com/archives/2012/04/12/meet-new-boss-town-ice-spawns-hsi-homeland-security-investigations-great-justice